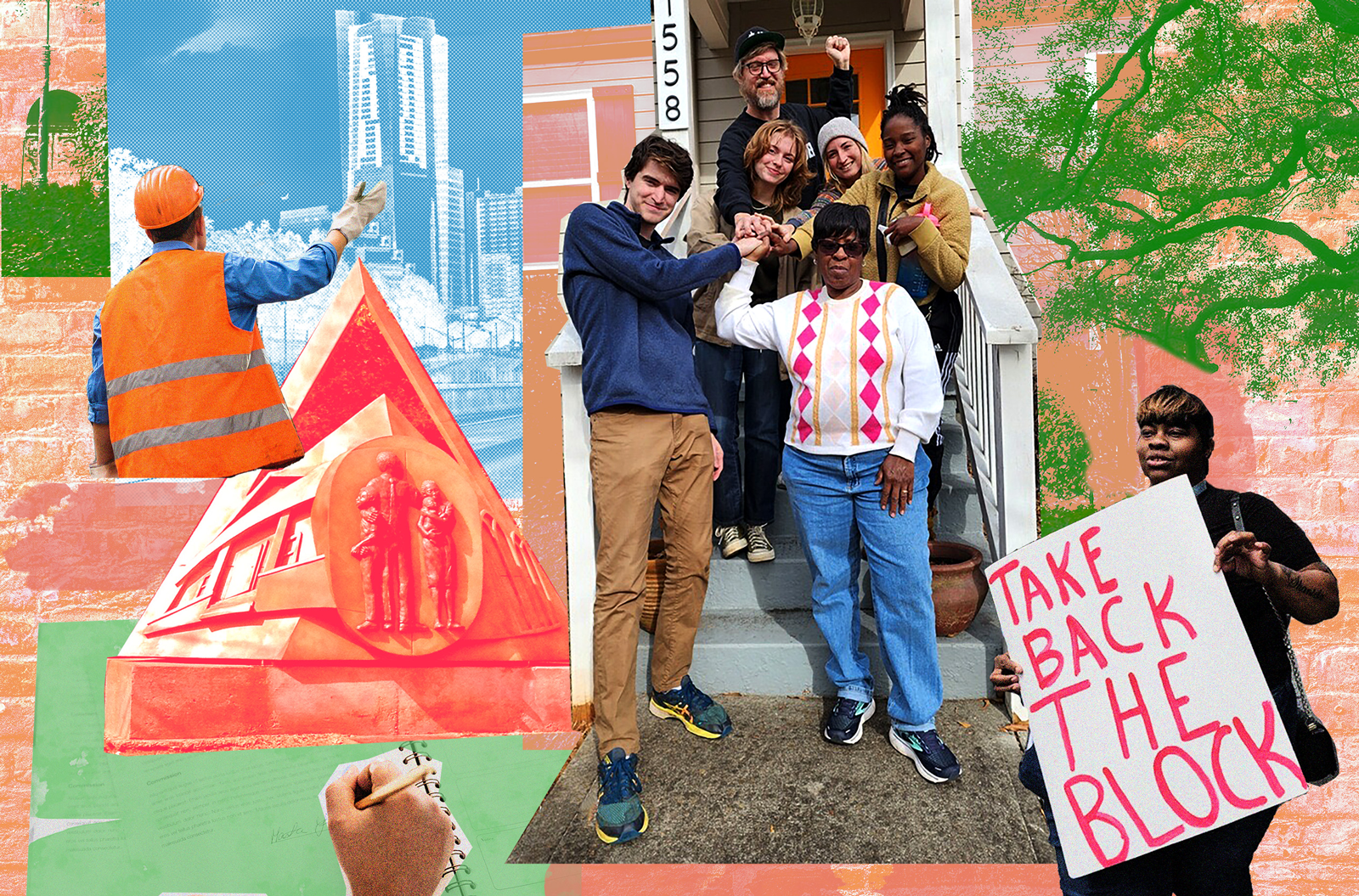 Everyone deserves to live in safe, healthy homes. But across the United States, people face evictions as neighborhoods are gentrified and home prices rise.
Renters are displaced by property owners eager to sell in a booming real estate market. And many tenants live in hazardous housing conditions that landlords fail to address.
Due to a long history of racist housing policies in the U.S., low-income people of color are disproportionately harmed by these problems.
The affordable housing crisis in the U.S. is not a crisis of resources. It's a crisis of moral priority. Far too often, elected officials choose to prioritize high-end developments and tax breaks for the wealthy instead of ensuring all people have safe, clean, affordable housing.
For over a decade, AFSC's Atlanta Economic Justice Program (ATLEJ) has helped renters and homeowners organize and advocate for their right to housing. Through trainings and grassroots leadership development, we support communities in building public pressure campaigns to create change.
Resisting Eminent Domain
Eminent domain refers to the power of government to take private property for public use. And it is one way government has historically displaced Black and Brown communities.
That's what the city of Atlanta did in 2012 when it forced residents from their homes in the historic Black community of Peoplestown. The city announced plans to seize 27 homes on one block, ostensibly to mitigate flooding. The plan involved building a state-of-the-art park with a waterfall, a gazebo, and ponds. Never mind that most of those homes had never flooded, or that city engineers had no evidence that their plan was necessary or would even work.
Several homeowners organized a coalition of community members and organizations, including AFSC, to oppose the forced displacement. They hired their own lawyer and engineering firm. Over the years, our coalition did everything we could to draw attention to what the city was doing—and build public support for our resistance. We showed up at city council meetings, held rallies and marches, staged sit-ins at the mayor's office, and garnered national media attention.
Last year, we finally concluded the decade-long struggle with a bittersweet victory. Under a new mayoral administration, families reached a satisfactory settlement with the city. They agreed to leave their homes—and the city would pay them enough to cover their legal and engineering expenses, afford new homes, and more. Through our resistance, our coalition succeeded in making developers and public officials rethink the use of eminent domain to displace communities of color.
Says former Peoplestown resident Tanya Washington, "We hope our fight will inspire other communities to stand up for themselves and inspire responsible exercise of authority by those in power."
Holding Landlords Accountable
In many places around the U.S., landlords are getting federal subsidies to rent to low-income people—even for conditions that are unsafe or unsanitary. Millennia Housing Management is one such landlord.
Millennia is one of the largest affordable housing providers in the country. It manages over 30,000 units across 26 states. But it has failed to rectify horrific living conditions in many of its complexes. Rats, roaches, and garbage; leaking pipes; and mold issues have sickened tenants. In Atlanta, Millennia's Forest Cove complex was condemned by a judge, citing numerous code violations. It took months and millions of dollars for the city to relocate the 200 residents to other affordable housing.
Multiple deaths and injuries have occurred in Millennia properties in other states. These include three people killed by a fire in Arkansas, and a mother and child killed by a carbon monoxide leak in Mississippi.
Today, Millennia tenants are organizing nationwide to hold Millennia accountable, with support from AFSC and partners. We're urging the U.S. Department of Housing and Urban Development and members of Congress to investigate Millennia's mismanagement and neglect. We're calling for more federal oversight and enforcement to ensure all federally subsidized housing providers provide safe, sanitary housing. And we're engaging others in our efforts through actions online and at Millennia complexes around the U.S.
"The fact that it was necessary to form a national movement against a company that's supposed to provide vulnerable people with healthy, safe, and dignified living conditions speaks to the systemic failures in our affordable housing system," says Becky, a Millennia tenant in Memphis. "Millennia is by no means the only company that profits from the marginalization of those whose voices are routinely ignored." If we can hold Millennia accountable, Becky says, "it will open the door for people who are in similar situations with other predatory landlords to be able to fight back and win."
To learn more about the Millennia Resistance Campaign, visit: afsc.org/millennia-campaign.
Building Community Power
Many people facing evictions or hazardous rental housing conditions don't know where to start in advocating for their rights. That's why AFSC published the "How to Defend Your Home" manual.
"How to Defend Your Home" is a step-by-step guide to help people research and develop a campaign strategy. It offers best practices for sharing personal stories with the public and for organizing neighbors and the larger community. It also discusses ways to negotiate with landlords and escalate public pressure.
The manual is based on a resource created by Occupy Our Homes Atlanta, a coalition AFSC helped form during the foreclosure crisis in the early 2010s. Mildred Obi was one of many who used that resource as a blueprint. Like many people, she had lost her job and fallen behind on mortgage payments. A senior in her 60s, she struggled to find employment, and despite her best efforts to work with the bank, she was evicted.
Mildred launched a public campaign, and community members rallied behind her. They held a sit-in at a local bank branch, gathered thousands of petition signatures, and marched with Mildred to move her back into her house as an act of civil disobedience. Eventually, the bank agreed to work out a payment plan with her so she could keep her home. She still lives there today.
"Having that community support is very important," Mildred says. "Knowing you're not alone, that you have rights, gives you strength. It empowers you."
To download the manual, visit afsc.org/HomeDefendersManual.
Embracing Community-Based Solutions
People across the U.S. are pursuing innovative approaches to address the affordable housing crisis. Community land trusts—owned and governed by residents themselves—provide one alternative, community-based solution.
This year, AFSC's program in Atlanta is partnering with local nonprofits—the Guild and Housing Justice League—to establish such a trust. Since 2015, the Guild has worked to stop the gentrification and displacement of Black communities through projects that promote community ownership. Recently, the Guild purchased a property in Atlanta, where several affordable homes will be built.
The first house is expected to be completed early next year. It will be the home of housing justice activist Juliet Brown, who in 2021 faced eviction from the home she had lived in for 30 years. Earlier this year, AFSC helped Juliet move into a lovely home in East Atlanta, where she will live temporarily as we work with the Guild to complete her forever home.
These are difficult economic times for so many people. But people in Atlanta and across the country are proving that when we work together to resist housing injustices, we can win—and reclaim our homes and dignity.