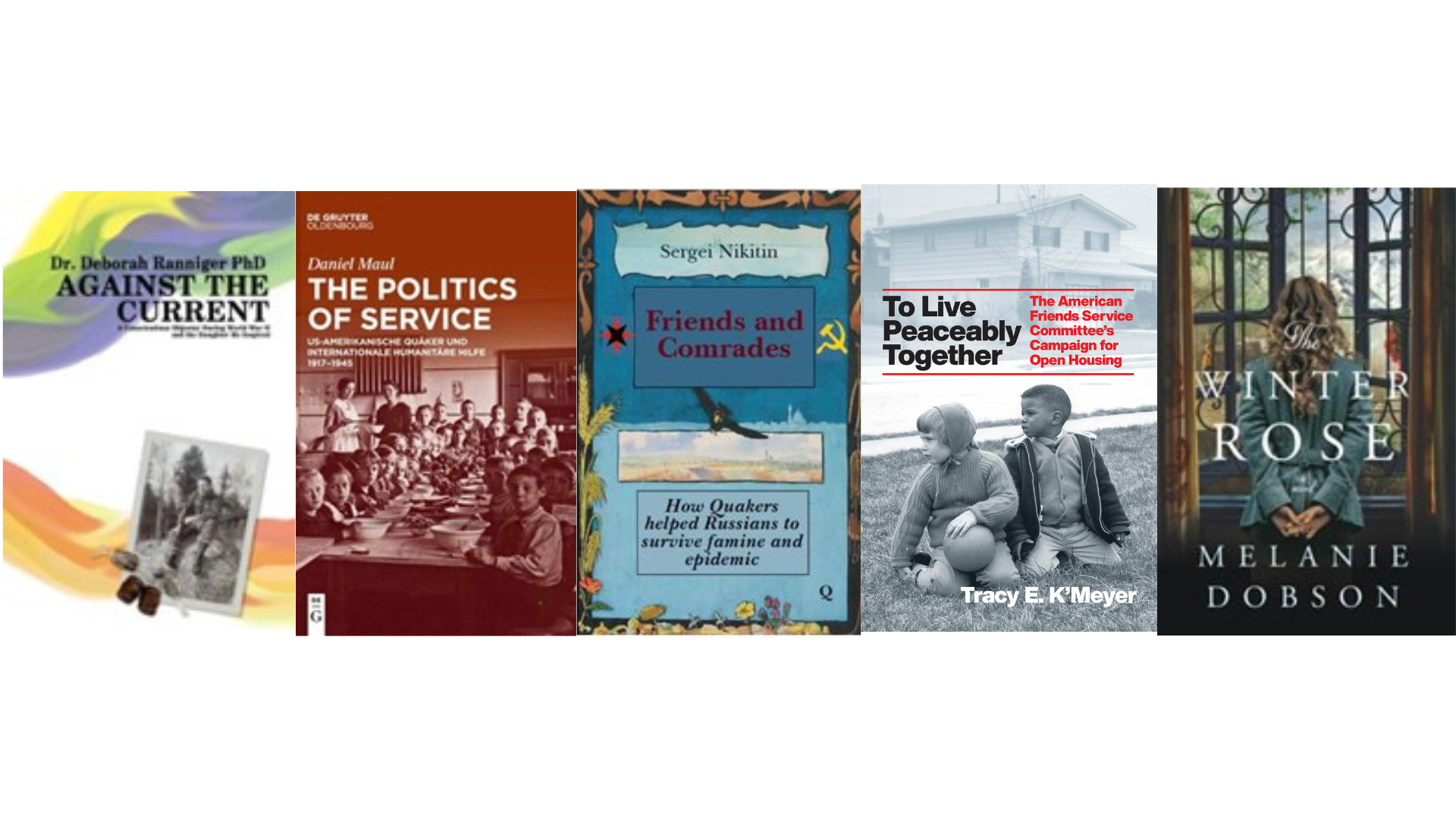 AFSC's archives have been used by scholars and researchers the world over. Throughout 2022, we received over 200 inquiries for information. Over the past year, several books have been published that utilized AFSC's archives and describe AFSC's work in key moments in history.
Here are a select few of these books.
"Against the Current" by Deborah Ranniger
In "Against the Current," Deborah Ranniger tells the story of her father, Leonard Edelstein. Leonard was a conscientious objector during World War II, mental health advocate, and real estate agent who worked against housing discrimination. While working as part of the CO unit at Byberry State Hospital in Philadelphia, he saw the horrific conditions to which patients of the facility were subjected. After his service, Leonard worked to bring meaningful change to the mental health care system. This included helping to establish the National Mental Health Foundation. Later in life, Deborah recognized the signs of her father's own struggle with mental health issues and dedicated herself to helping those with similar problems. Deborah learned from her father's example the importance of social justice and how to live by your beliefs.
"The Politics of Service" by Daniel Roger Maul
In "The Politics of Service," Daniel takes a look at some of AFSC's early relief missions. He explores the ways in which AFSC evolved to become more efficient in the delivery of humanitarian aid in the early 20th century. Daniel points to several examples including professionalization, modernization, and media messaging, which improved the AFSC prowess in the delivery of international humanitarian aid. He also addresses the inherent difficulties of delivering aid when working with international actors who have many different concerns and agendas. The book is currently available in German, with an English edition to be released in June of 2023.
"Friends and Comrades: How the Quakers Tried to Save Russia" by Sergei Nikitin
"Friends and Comrades" is a comprehensive account of the British and American relief mission to aid victims of the Russian famine of 1921. AFSC played a crucial role in this mission. Sergei demonstrates how Quakers were able to maneuver through intricate diplomatic and logistical issues to bring much needed relief to the Russian people.
"To Live Peaceably Together: The American Friends Service Committee's Campaign for Open Housing" by Tracy E. K'Meyer
"To Live Peaceably Together" takes a look at AFSC's work towards integrated housing. The story begins in the post-World War era and covers AFSC's activity in Boston, Philadelphia, Chicago, and the San Joaquin Valley. Tracy brings to life the individuals who were part of the campaign for equal housing. The book provides a rich and detailed history of what it was like for AFSC staff on the ground as they engaged in this work.
"The Winter Rose" by Melanie Dobson
This historical novel follows an American Quaker relief worker and her efforts to rescue Jewish children from the Nazis. It draws from primary source material held in the AFSC archives. The book was inspired by the correspondence and reports of AFSC staff members who worked with refugees in Spain and France during World War II. The novel connects past and present as the main characters seek to solve a present-day mystery.