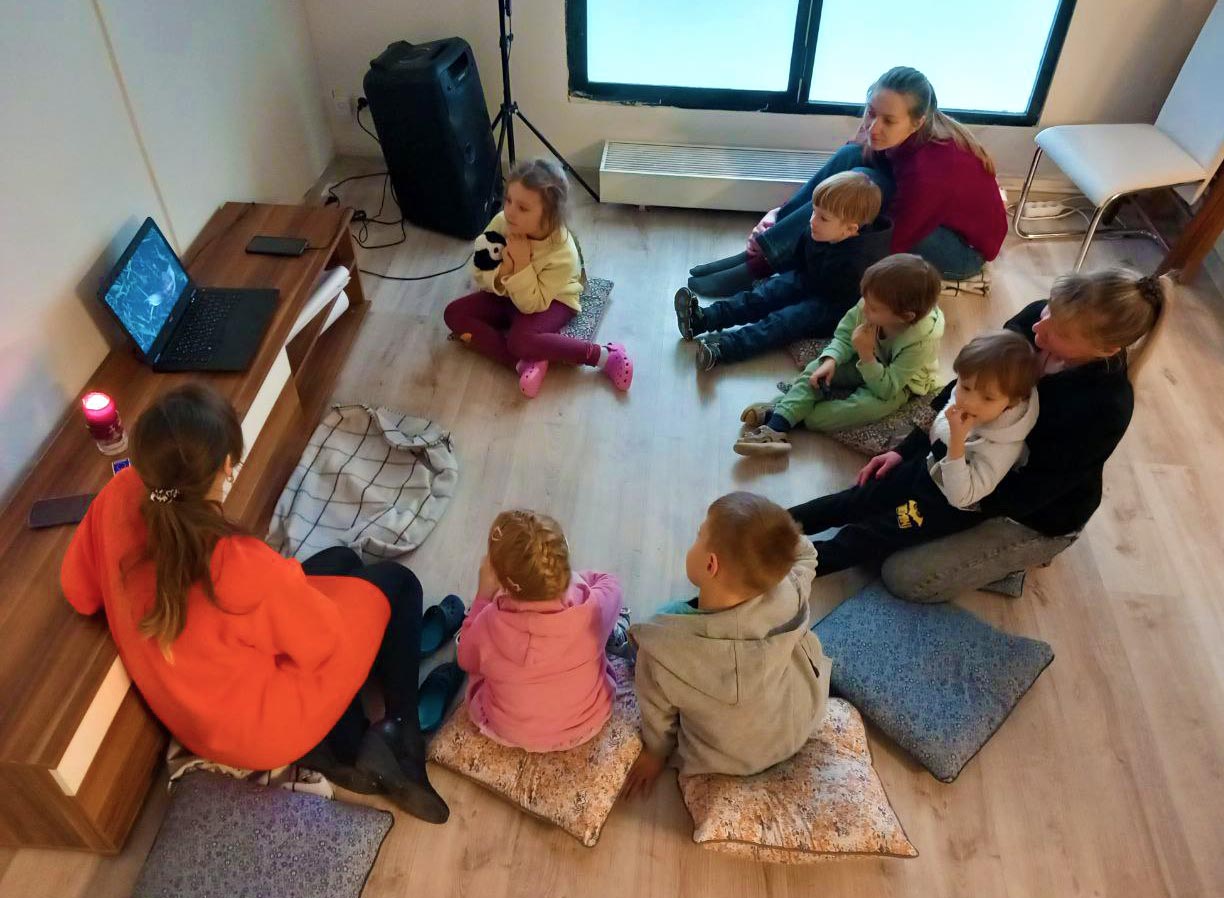 Over the past year, the war in Ukraine has displaced millions of people within the country, across Europe, and beyond. Humanitarian need has only continued to grow in Ukraine and in the countries where refugees have fled.
Since AFSC's founding, we have stood with people displaced by conflict and other crises as part of building a more peaceful world. Today we are partnering with local groups in Europe to fund essential work to assist Ukrainian refugees and internally displaced people. Our partners include the Central European Gathering of Friends Funding for Ukraine Group, Tallinn Worship Group, and the Ukraine Women's Fund.
Here are four ways the AFSC community is making a difference by supporting Ukrainian refugees.
1. Distributing aid to Ukrainian refugees
With funds from AFSC, the Central European Gathering of Friends Funding for Ukraine Group (FUG) is supporting relief efforts for Ukrainian refugees in Poland, Hungary, and Czechia (the Czech Republic).
One recipient of AFSC funds, People in Need-SOS Ukraine, has assisted tens of thousands of Ukrainian refugees that have arrived in Czechia since the start of the war. The organization helps refugees find accommodation, work, school and health care.
In Poland, local organization Patchwork works with 170 families of people with disabilities. Patchwork is also creating a sewing workshop and cosmetics and manicure workshop so some families can work and earn money. These workshops are especially important as the Polish government has begun to reduce aid for refugees, though many face challenges supporting themselves and their families.
2. Providing temporary housing for families
Migration Aid operates the largest transit refugee hostel in Hungary. Since its opening, the shelter has provided temporary safe haven to more than 30,000 Ukrainian refugees. Migration Aid also offers long-term accommodations at its refugee hostel in Győr, which can accommodate 70 people, which are mainly women and children. Volunteers also help refugees to navigate the city, get legal help, and obtain food, clothing, and other necessities.
3. Providing essentials to refugees in Estonia
Through Friends of Estonia, AFSC funds are supporting the Tallinn War Refugee Centre. The organization connects refugees with resources for health care, counseling, legal help, and shelter, and helps them access government assistance to meet basic needs. AFSC funds will also be used for workshops on nonviolence, meetings with young people on alternatives to military service, and books to help Ukrainian children learn Estonian.
4. Issuing rapid response grants for vital humanitarian assistance
Since the start of the war, the Ukraine Women's Fund (UWF) has provided rapid response grants to help women's/feminist organizations meet urgent humanitarian needs. UWF focuses on the needs of women and girls with disabilities, those caring for children with disabilities, those who have been wounded, LGBTQI+ people, and activists remaining in Ukraine. Rapid response grants have helped organizations distribute food, water, medicine, hygiene products, and other essentials, as well as provide emergency psychosocial and transportation services.
These efforts demonstrate how AFSC partners are responding in very practical ways to the war in Ukraine—while working to ensure that refugees are welcomed with dignity and their rights are protected.
In the coming months, we will keep you updated on these projects. If you would like to support our efforts to aid Ukrainian refugees, please make a gift today.